SESRIC participated in the Workshop on the Prevention and Control of COVID-19 at the Workplace for Sustainable Business
---
Venue :
Virtually - Jakarta – Indonesia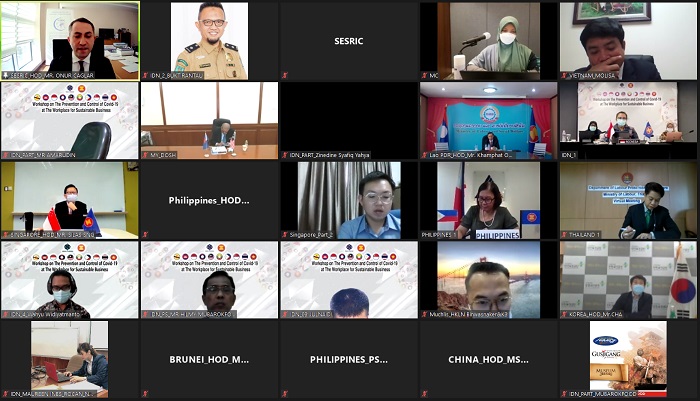 SESRIC participated in the Workshop on the Prevention and Control of COVID-19 at the Workplace for Sustainable Business, which was hosted virtually by the Ministry of Manpower of Republic of Indonesia on 24 February 2021.
Organised within the framework of the ASEAN OSHNET Work Plan 2021-2025, the Workshop aimed at sharing knowledge and expertise on how to prevent and control COVID-19 spread at the workplace in order to protect workers. In addition, the Workshop facilitated sharing of best practices on how to maintain sustainable business among ASEAN Member States and how to demonstrate Occupational Safety and Health (OSH) for prevention and control of COVID-19 at the workplace including SME's.
On behalf of SESRIC, Mr. Onur CAGLAR, Acting Director Training and Technical Cooperation Department delivered a presentation on the "Impact and Response the World of Work for the COVID-19 Pandemic: Lessons Learned from the OIC Region". In his presentation, Mr. CAGLAR provided examples of good practices from OIC Member Countries in supporting employment, jobs and protecting workers, and he underlined the importance of cooperation to overcome obstacles related to COVID-19.
The ASEAN-OSHNET is a regional network that has its origin in the ILO Programme for the Improvement of Working Condition and Environment (PIACT), which was launched in 1976. The network aims to collect and disseminate information within the ASEAN countries and to manage research and training for the improvement of working condition and environment.
Photos